NEWS: 18 new IMA Educational Ambassadors
IMA has decided to award the title IMA Educational Ambassador to 18 key players in the Massage profession.
They are all dedicated educators, school owners or representatives of better education of massage therapists and massage teachers in their respective countries and areas of the world.
In 2020, spa & beauty salon professionals have demonstrated outstanding grit, resilience and agility.
During the first lockdown, associations, groups and owners have raised the bar on SOPs and digital communication, so that clients felt safe to return during the summer.
This second lockdown, with massive uncertainty about the holiday season, is proof that local officials still do not consider our sector as ESSENTIAL workers, although there is abudant research about the numerous physiological benefits of massage on the body & mind, the positive impact of preventative complementary alternative modalities to enhance vitality, serenity and immunity.
"Training people is not about filling up vases, it is about lighting up fires".
At a time when on-going education is paramount for therapists to stay on top of their game and serve their clients to the best of their abilities when spas & salons reopen, the International Massage Association wants to acknowledge 18 remarquable educators around the world for their constant efforts to support our profession through elevated trainings and workshops.
IMA announces 18 Educational Ambassadors
Below, please find the list of passionate & dedicated 18 educators, whose vocation is to inspire & empower professionals to touch lives and not just skin, through Massage workshops in advanced techniques as well as body mechanics ; elevated Spa operations to enrich guest experience ; and transformational wellness modalities.
About IMA
At The International Massage Association (IMA) we aim to unite people with a special interest in massage. We are therefore open to various national associations, special associations, massage therapy groups and various types of massage.
Besides offering the Massage Therapists the opportunity of competing at International competitions, The IMA also invite to seminars on the future of massage in an interdisciplinary collaboration worldwide. Massage teachers can also sign up for the Massage Teachers Class Basic course and soon the Advanced course, which is for those who are already teaching or planning to teach others in the world. The Massage Teacher Class will also take place at the Top Spa Festival.
The Educational Ambassadors will encourage massage educators in their countries to take, among other things, the IMA Approved International Teacher online class. Read more here https://international-teacher.online/en.
With the help of the Educational Ambassadors, IMA hopes to raise the bar by training more and better massage educators.
Their names are:
Jean-Guy de Gabriac, Belgium/France
Motoc Iulian, Romania
Chutima Hälg, Switzerland/Thailand
Moshe Moreno, Israel
Gligoris Voltis, Germany
Elvira Gentile, Italy
Emma Gilmore, England
Christina Blei-Amadoelrasit, Holland
Ivan Conversano, Italy
Joe Lavin, USA
Marie Keller, Sweden
Khatuna Urushadze, Georgia
Milda Gintiliene, Lithuania
Laila Roge, Latvia
Paris Siolos, Greece
Anna Baroni, Italy
Petra Voltis, Germany
Ryan Hoyme, USA
More names will follow in 2021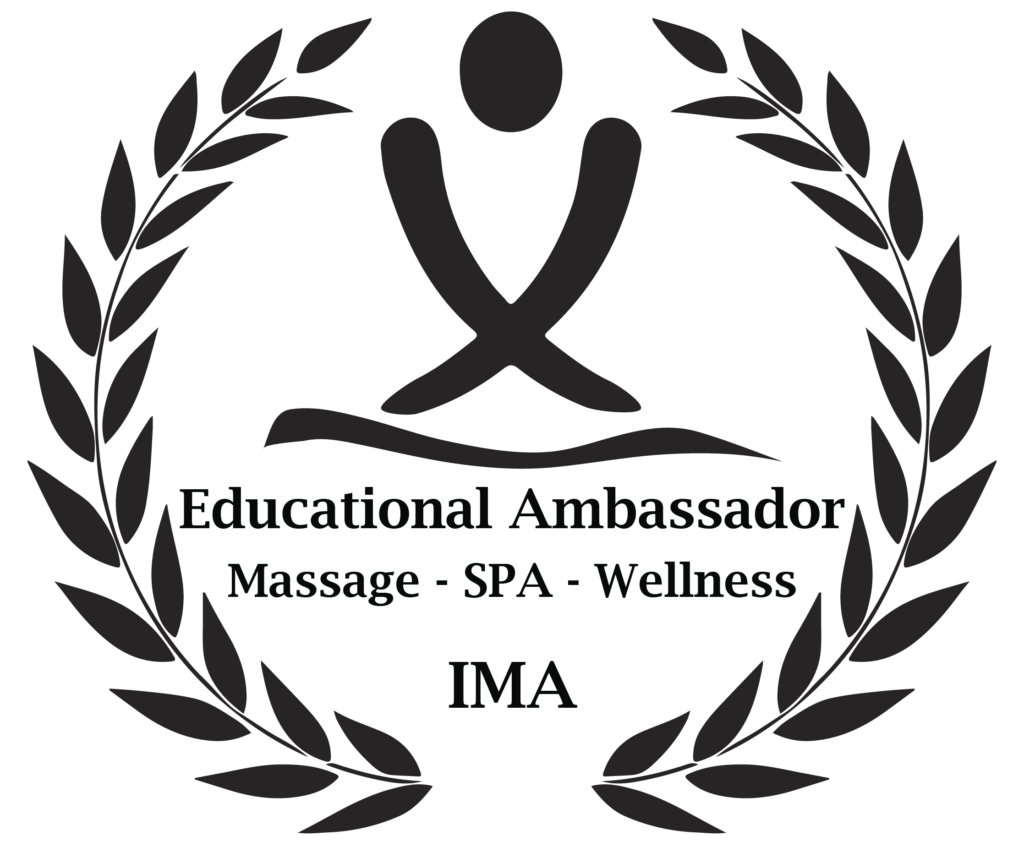 #IMA_teacher
#IMA_Student